Life is a Cabaret: ultimatetaxi.com
Reviewed April 5, 1999

lthough BMW touts its vehicles as ultimate driving machines, Jon Barnes of Basalt, Colo. (near Aspen) gives the luxury car manufacturer a run for its money. Barnes, the 41-year-old father of two (with one on the way) is the proud owner and operator of The Ultimate Taxi — a 1978 Checker A-11 Taxicab whose slew of gadgets and celebrity fares are documented on ultimatetaxi.com.
Barnes classifies The Ultimate Taxi as "The Only Recording Studio, Theater, Nightclub, Planetarium, Toy Store, Internet Connected Taxicab In The World," he says. It contains a system of strobe and fiber-optic lights, lasers and dry ice fog. A digital piano and drum set comprise the "killer sound system," as Barnes calls it, and digital cameras, a color photo printer, a laptop computer and a cellular phone connect his world to the Internet. Don't look for this $100,000 option package — sponsored in part by Kodak, Hitachi and Yamaha — to show up at the BMW dealership anytime soon.
A Checkered Past
After moving from New York to Aspen, Colo., in 1984, Barnes purchased the '78 Checker and, working for a taxi service, spruced up the cab with a color television set and keyboards to pass the time between passengers. "If I want to have a little bit of fun and make my space more fun for me, why not?" says the onetime class clown. Eventually he began to play the keyboards for his passengers and added singing and magic tricks to his repertoire.
Such antics established a reputation for Barnes. Soon local customers began requesting him by name, willing to wait an hour or more for his arrival. Realizing that the service he provided was more than transportation, Barnes struck out on his own in 1990, thinking of himself as an entertainer and only secondarily as a cabby. By making The Ultimate Taxi "the coolest ride I could come up with," Barnes says, he doesn't just deliver passengers from point to point; he takes people on the ride of a lifetime, a "Pink Floyd concert on wheels" complete with "Siegfried-and-Roy-style light and fog show."
Celebrity Fare
Committed to keeping The Ultimate Taxi evolving with technology, Barnes launched ultimatetaxi.com early in 1996 with the help of a Web development firm, but he has since taken over site management himself. Passenger photos are snapped by a digital camera during the ride, and Barnes updates ultimatetaxi.com with them several times each night directly from the cab. The 5,000 or so charming and amusing photographs archived on the site — including those of a wide variety of celebrities, such as Clint Eastwood, Bob Dole and Dan Marino — hint at the ride's capacity for sensory overload.
The latest addition to ultimatetaxi.com is streaming video, including a clip of Jimmy Buffett performing "Brown Eyed Girl." Look for this section to continue expanding: Barnes' next step is to create the world's first taxi-based television studio, and he is currently producing a pilot for a "Tonight Show on wheels."
Reported by Kara Reuter, cars.com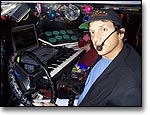 MORE DETAIL




FAMOUS FACES IN THE TAXI
Peek at Barnes' wide celebrity clientele, including Ringo Starr and Kevin Costner.

TAXI TV
Check out video clips of magic tricks and musical performances from the back seat of the taxi.

EQUIPMENT LIST
See a comprehensive listing of all the custom equipment installed on The Ultimate Taxi.




CHECKER TAXI STAND
Read all about the Checker's history at Matt "The Cabbie" Fry's definitive site.

THE NEW YORK CITY TAXICAB FACT BOOK
Peruse New York City's Taxi and Limousine Commission's close examination of its industry.

MYCARSTEREO.COM
See what kind of car stereo $50,000 and nearly a year's worth of work can buy.




CUSTOM CARS: AFTERMARKET UPGRADES
Read the cars.com special on aftermarket upgrades for advice on making your ride special.