Superior Interiors
Reviewed June 7, 1999

f you're looking for the lowdown on the hot rod scene, Interiors By Shannon is the place to start. Beaming with Southern hospitality, the site was designed and is maintained by Alabama upholsterer Shannon Walters to showcase his award-winning custom leather car interiors and share his true love for 'rodding.
In a trade occupied by aged master craftsmen, Walters, at just 27, is already turning heads with his work after sewing his first stitch in trade school just five years ago. Originally planning to train as a studio artist, Walters parlayed his artistic talent into the more practical trade of upholstery, learning the fundamentals on furniture. The transition from sofas and chairs to cars and trucks was natural for the son of a hot rod fan. "I've worked around old cars for most of my life," Walters writes in his on-site bio.
Interiority Complex
Working mostly on stripped street rods, Walters starts every project from scratch. Shunning work on "ordinary" cars, his clientele includes vehicle owners intent on showing their prized possessions in competition. Not interested in reproducing historically accurate interiors, Walters imprints his own creative vision on each car he designs. Working carefully and slowly, typically Walters completes one car interior per month. The young upholsterer's style is curvaceous and sculptural — high-quality leather is stretched over a layer of foam. His distinctive work has earned the attention of Super Chevy and Street Rodder magazines, as well as a full feature in a recent issue of Auto Trim & Restyling News.
Walters's most recent project was the leather interior of a beautiful pale yellow and white 1955 Chevrolet Convertible, currently on display at the site. His signature style becomes evident after browsing the interior photos of the 17 cars on display at the site — from a 1936 Ford Coupe to a 1969 Chevrolet Camaro. You'll also be able to see the exterior of the cars as well as "before" pictures for the full effect. And for the ultimate before shots, there's even a page of Old Pics featuring derelict would-be rods with the obligatory trees growing through them.
Online Showroom
As a small-town resident who is plying a highly specialized trade, Walters conceived of a personal site as a way to show his work to far-flung prospective clients. After getting a computer last year, Walters taught himself the basics of Web design. Starting as a home page just over a year ago, the scale of the site has grown enough to require its own domain name. Now averaging almost 50 hits each day, the site requires several hours of weekly maintenance. "The real work was getting it up and getting it going," he says. "I used to have to spend some time on it every evening." Although clients are starting to trickle in straight from the Web site, most of his business is still generated the old-fashioned way, by distributing his business cards at rod shows.
On his site, Walters keeps an invitation posted to the local weekly Saturday cruise night, and lists upcoming national events he'll be attending. "I trade links with everyone I can," Walters says, a practice that has resulted in a huge hot rodding network. The Upholstery Links section includes other shops across the country — and even one in Australia — as well as sources for materials, kits and equipment for the do-it-yourselfer. He also offers a downloadable list of tips for readying your car for the upholstery shop that's useful regardless of where you take for rod for custom interior work.
Reported by Andrius Mikonis for cars.com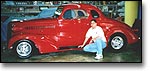 MORE DETAIL




READY FOR UPHOLSTERY
Read Walters' helpful tips for preparing your vehicle for custom upholstery.

OLD CAR PHOTOS
Take a look at photos of potential diamonds in the rough.

MY 1938 CHEVY COUPE
Check out Walters' own restored street rod.




KEARNEY'S AUTO UPHOLSTERY
View the work of another custom auto upholsterer.

PETER'S 1938 FORD COUPE
Check out exterior and interior views of another street rod.

DR. CHOP'S STREETROD PAGE
Check out this unique 1928 Ford Tudor sedan on a Jeep chassis.